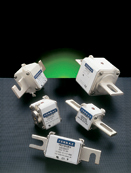 1250 & 1300 Volt Semiconductor Fuses
Ferraz Shawmut 1250/1300V PSC fuse-links provide maximum flexibility in equipment design and ultimate protection for today's power conversion equipment. These square body fuse-links are available in four different body sizes, each size having seven worldwide acceptable mounting styles. The different mounting styles and body sizes long with a broad range of ampere ratings allow greatest flexibility in equipment design.
The Ferraz Shawmut PSC fuses have been engineered to provide state-of-the-art  protection for SCR's, diodes, thyristors, GTO's and IGBT devices. They have pure silver, die-cut elements embedded in solidified sand, which helps control arcing characteristics for low I2t and high interrupting rating. All contact surfaces are silver plated and all hardware is non-magnetic.  All fuse links are equipped with a low voltage trip-indicator. This trip-indicator can operate a field mountable microswitch which is easily mounted directly onto the fuse even while in service.

[1.5 MB]

Brochure
[Not Available]
Features
Choice of mounting styles gives wide choice for equipment design
Broad range of ampere ratings in a given body size for design flexibility
IEC 269-4 compliance for worldwide semiconductor applications
Extremely Fast Acting
Current Limiting
Very Low I

2

t
Worldwide Acceptability
Superior Cycling Ability
Ratings
Approvals
Applications
Ferraz 1250 Volt Semiconductor Fuse Selection
BODY
SIZE
AMPERE
RATING
RATED
VOLTAGE
DIN 110
CATALOG NUMBER
TYPE D11A
METRIC
TAPPED SINGLE
CATALOG NUMBER
TYPE TTF
70
50
1250
12,5URD70D11A0050
12,5URD70TTF0050
63
1250
12,5URD70D11A0063
12,5URD70TTF0063
80
1250
12,5URD70D11A0080
12,5URD70TTF0080
100
1250
12,5URD70D11A0100
12,5URD70TTF0100
125
1250
12,5URD70D11A0125
12,5URD70TTF0125
160
1250
12,5URD70D11A0160
12,5URD70TTF0160
200
1250
12,5URD70D11A0200
12,5URD70TTF0200
250
1250
12,5URD70D11A0250
12,5URD70TTF0250
280
1200
12URD70D11A0280
-
280
1200
-
12URD70TTF0280
315
1200
12URD70D11A0315
-
315
1200
-
12URD70TTF0315
350
1100
11URD70D11A0350
11URD70TTF0350
400
1100
11URD70D11A0400
11URD70TTF0400
71
160
1250
12,5URD71D11A0160
12,5URD71TTF0160
200
1250
12,5URD71D11A0200
12,5URD71TTF0200
250
1250
12,5URD71D11A0250
12,5URD71TTF0250
315
1250
12,5URD71D11A0315
12,5URD71TTF0315
350
1250
12,5URD71D11A0350
12,5URD71TTF0350
400
1250
12,5URD71D11A0400
12,5URD71TTF0400
450
1250
12,5URD71D11A0450
12,5URD71TTF0450
500
1100
11URD71D11A0500
11URD71TTF0500
550
1100
11URD71D11A0550
11URD71TTF0550
630
1000
10URD71D11A0630
-
630
1100
-
11URD71TTF0630
72
280
1250
12,5URD72D11A0280
12,5URD72TTF0280
315
1250
12,5URD72D11A0315
12,5URD72TTF0315
350
1250
12,5URD72D11A0350
12,5URD72TTF0350
400
1250
12,5URD72D11A0400
12,5URD72TTF0400
450
1250
12,5URD72D11A0450
12,5URD72TTF0450
500
1250
12,5URD72D11A0500
12,5URD72TTF0500
550
1250
12,5URD72D11A0550
12,5URD72TTF0550
630
1100
11URD72D11A0630
-
630
1250
-
12,5URD72TTF0630
700
1000
10URD72D11A0700
-
700
1100
-
11URD72TTF0700
800
1000
10URD72D11A0800
-
800
1100
-
11URD72TTF0800
900
1000
10URD72D11A0900
10URD72TTF0900
1000
850
-
8,5URD72TTF1000
73
315
1250
12,5URD73D11A0315
12,5URD73TTF0315
350
1250
12,5URD73D11A0350
12,5URD73TTF0350
400
1250
12,5URD73D11A0400
12,5URD73TTF0400
450
1250
12,5URD73D11A0450
12,5URD73TTF0450
500
1250
12,5URD73D11A0500
12,5URD73TTF0500
550
1250
12,5URD73D11A0550
12,5URD73TTF0550
630
1250
12,5URD73D11A0630
12,5URD73TTF0630
700
1200
12URD73D11A0700
-
700
1250
-
12,5URD73TTF0700
800
1100
11URD73D11A0800
-
800
1250
-
12,5URD73TTF0800
900
1000
10URD73D11A0900
-
900
1200
-
12URD73TTF0900
1000
900
9URD73D11A1000
-
1000
1000
-
10URD73TTF1000
1100
900
9URD73D11A1100
-
1100
950
-
9,5URD73TTF1100
1250
900
-
9URD73TTF1250
1400
850
-
8,5URD73TTF1400
1600
660
-
6,6URD73TTF1600
1800
600
-
6URD73TTF1800
Ferraz 1300 Volt Semiconductor Fuse Selection