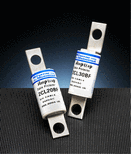 2CL - 250V Cable Protector
Ferraz Shawmut CP Cable Protectors are special purpose limiters which are crimped or bolted to cables to clear and isolate faults quickly, increasing the reliability of service entrance and distribution runs. They are current limiting with a 200,000A interrupting rating, yet will carry low cable overloads which are handled by standard protective devices. Cable Protectors are rated in terms of cable size and material (Al or Cu). Heavier duty CPH Cable Protectors are available on special order. Heat shrinkable (HS) tubing can be specified for field installation. For cables smaller than 4/0, Class J fuses can be used.

[281 KB]

Brochure
[Not Available]
Features
Fiberglass bodies for dimensional stability in harsh environments
Catalog number stamped into terminal for permanent identification
Crimp terminals for aluminum cable include oxide inhibitor
Molded rubber boots available for insulation and protection
Current limiting devise
Permitted by code
Available with various termination types for connection to cable, bus, offset bus and mole conductors.
Part Numbers