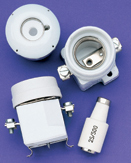 D Type (DIAZED) / Fuse Links & Screw Cap Holders
Ferraz Shawmut D fuse-links, also called Diazed type, are 500 Volts AC rated with 75kA interrupting rating. They have 4 physical sizes, DI, DII, DIII, and DIV and fit into special screw caps. All fuse-links have blownfuse indicators which are visible through the screw
cap. Screw caps fit onto single pole bases which are screw or DIN rail mounted. Accessories such as covers, adapter rings, and gauge rings are described.

[434 KB]

Brochure
[Not Available]
Features
Blown-fuse indicators
500V AC rated
75kA interrupting rating
Part Numbers