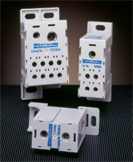 FSPDB Series (Aluminum Connector)
Ferraz Shawmut FSPDBs introduce a new level of safety and ease for installing power distribution blocks. An IP20 level of finger safe protection is achieved using the FSPDBs and thus eliminates the need for special covers or custom plexiglass sheets to protect your panels. FSPDBs (sizes 1 to 4) simply snap onto 35mm DIN rail to provide the quickest installation. And since they are modular, you can form any number of poles desired. If multi-pole panel mounting is desired, multiple-pole assembly pins are available. FSPDBs provide a safe, convenient way of splicing cables, splitting primary power into a variety of secondary circuits or providing a fixed junction tap-off point.
Features
Finger-Safe Fully insulated block ensures that no one can touch live parts. Recessed termination screws and wire openings provide IP20 grade protection and qualify as "finger-safe" per IEC 529.
Compact Modularity Single or multiple pole configurations in the most compact footprint. Allows users to build smaller or higher density panels.
Snap on DIN Rail Mounting Sizes 1 to 4 feature integral DIN rail adaptors allowing for quick and easy installations on 35mm DIN rail yielding lower installed costs.
Captive Termination Screws Unique channel design ensures captive metric wire termination screws. Screws can never be lost.
Available Accessories For multi-pole panel mounting, simply snap in pins for rigid fit. Cap plugs provide the ability to maintain touch safety on unused openings. Circuit identification markers simply snap into blocks to ID circuits. End anchors provide rigid end stops.
Part Numbers