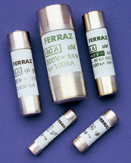 gF Series / 250V & 400V / Cylindrical Fuse
Ferraz Shawmut gF fuse-links cover a wide range of physical sizes and ampere ratings for 250 and 400 volt AC applications. gF fuse-links are for residential use and all ratings have ceramic bodies with silver plated ferrules. Most ratings are available with optional indicator.

[330 KB]

Brochure
[Not Available]
Features
7 Physical sizes: 6.3 X 23mm, 8.5 X 23mm, 10.3 X 25.8mm, 8.5 X 31.5mm, 10.3 X 31.5mm, 8.5 X 36mm and 10.3 X 38mm.
250VAC and 400VAC ratings - 0.5A through 32A.
Most ratings available with indicator. Exceptions are size 6.3 X 23mm 2, 4, 6, and 10A.
Ceramic fuse bodies with silver plated ferrules.
All fuses are sand filled.
Ratings
Approvals
Applications
Ferraz gF Series Fuse Selection