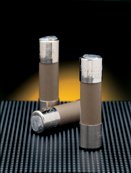 GGU Series / 125VAC / General Purpose
125V AC rated Ferraz GGU fuses have midget fuse dimensions (1-1/2 In long x 13/32 In diameter). 20A and above have ceramic bodies, allowing use in higher ambient temperature conditions than other similar fuses. (Not for Branch Circuit Protection).

[193 KB]

Brochure
[Not Available]
Features
Glass body on 3-15A makes status of fusible element clearly visible.
Ceramic body on 20-30A allows use in higher temperature applications.
Medium Lag for protection of circuits up to 30A and 125VAC.
Can be used with ULTRASAFE Fuseholders.
Ratings
Approvals
Applications