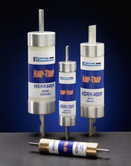 HSRK Series / Class RK1 / High Speed
Protect your electrical power wiring and power semiconductors with a single fuse.
The new HIGH SPEED RK1 (HSRK) combines semiconductor fuse performance with NEC branch circuit compliance. The fuse was designed with two specific applications in mind:
To provide semiconductor fuse performance to solid state drive applications but in the larger RK body sizes that have been typically installed in older systems.
To provide industrial power applications with the most current limiting fuse available, which in turn provides the best arc flash mitigation available to power systems using the larger RK size fuses.

[632 KB]

Brochure
[Not Available]
Features
Most current limiting RK1 available
Provides the best Arc flash mitigation for feeder and
branch circuits (non motor load circuits)
Excellent cycling ability for frequent drive starts and
stops without nuisance opening
Extremely Low I

2

t
Highlights
Current-limiting
Low I

2

t
Drive protection in larger RK body sizes for older installations
Fast acting
Ratings
Approvals
Applications
Ferraz HSRK Series Fuse Selection