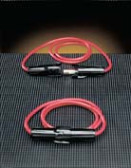 In-line SFRT-Size 1-1/4"X1/4"
Twist-Lock In-Line Fuseholders for FSFE fuses. Used at 32V or less with fuses rated up to 20A when proper spring for fuse size is installed.

[263 KB]

Brochure
[Not Available]
Features
Molded black thermoplastic (UL 94V2).
Ambient temperature is -40 degrees C to +75 degrees C.
Contact rivets are tin plated brass designed for use with #14 AWG.
Includes fuse listed and 19" loop of #14 AWG red vinyl insulated wire.
Part Numbers