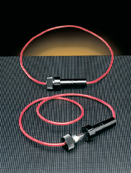 In-line SFRU-Size 1-1/4"X1/4"
Universal In-Line Fuseholder supplied with 15" loop of #14AWGT red vinyl insulated wire frame and three springs in different lenghts to accomodate FSFE size fuse.

[263 KB]

Brochure
[Not Available]
Features
Molded body and knob are Black Thermoset (UL 94V0).
Body and knob have .20" diameter hole for insulated wire.
Knob is bayonet-lock type metal insert.
Ambient temperature is -40 degrees C to +125 degrees C.
Contact rivets are tin plated brass designed for use with #14 AWG stranded wire
Includes fuse listed and 19" loop of #14 AWG red insulated wire.
Part Numbers