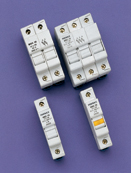 Modular Fuse Bases for 10x38mm Fuses - MSC Series
Ferraz Shawmut MSC modular fuse bases accommodate industrial cylindrical fuse-links 10 x 38 mm fuses. They have operating handles for non load-break disconnecting and electrical isolation for fuse-link replacement without tools. All contacts are silver-plated. 2, 3 or 4-pole units can be made up with assembly pins and operating handle ties.

[494 KB]

Brochure
[Not Available]
Features
MSC.10 accepts Class CC, Midget and 10 x 38mm fuse-links.
Symmetrical DIN rail mount.
Optional neutral incorporated.
Optional indicator light in 1-pole unit shows open fuse when lit.
Steel pin handle tie.
Thermoplastic base.
Part Numbers