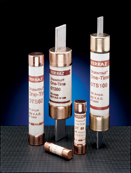 OT, OTN & OTS Series / Class K5 / One-Time
OT, OTN  and OTS general purpose fuses provide low cost protection for feeder and branch circuits serving lighting, heating, and other non-motor loads. OT, OTN and OTS fuses will safely interrupt available short circuit currents up to 50,000 amperes in all ratings.OT, OTN and OTS fuses are not rejection fuses – care should be taken to ensure that replacement fuses do not have lower interrupting ratings than original fuses.
OTN 15 through 60 satisfy the Canadian electrical code requirement for Type "P," low melting-point, non-time delay fuses.

[375 KB]

Brochure
[Not Available]
Features
Easy to read imprint label for quick recognition and replacement
Low cost for high protection value
Highlights
Versatile
Lowest cost prtoection for circuits serving non-inductive loads
Ratings
Approvals
Applications
Ferraz OT, OTN & OTS Series Fuse Selection