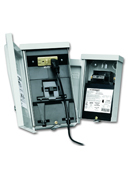 Pullout (Fused)
Built for maximum performance, durability and ease of use, Ferraz Shawmut's AC disconnects are the solution today's single phase commercial and residential applications require. Available in a full range of fusible, non-fusible, switched and pullout styles, these disconnects are easy to install, easy to use, and rugged enough to ensure years of reliable service. The innovative versions with GFCI receptacles are the easiest to install in the industry.


Designed to meet the requirements of NEC210.63, 406.8(B)(1), 440-14, Ferraz Shawmut's AC disconnects feature both UL and cUL approvals. The 30 and 60 ampere units are rated for 3 and 10 horsepower at 240 VAC respectively.

[571 KB]

Brochure
[Not Available]
Features
Side opening cover affords large work area and maximum visibility during installation and use.
Pre-wired 15A GFCI and standard receptacles with stripped wire ends makes for quick and easy installations.
Angled receptacle mounting eliminates the possibility of crushing portable electrical cord plugs when closing "while in use" cover.
Cord holders provided on receptacle models via retaining clips to secure cord with "while in use" cover.
Finger Safe Contacts provides IP20 grade of protection to safeguard both installers and end users.
Integrated hanger bracket for easy wall mounting.
Captive set screws on wiring compartment cover ensures screws can never be lost.
Combination flat, phillips and hex screw heads further simplify installation.
Safety Lockout – integrated safety latch prevents unauthorized access.
Switched versions eliminate the risk of losing or misinstalling the pullout and clearly identifies whether the switch is in the ON or OFF position.
Part Numbers