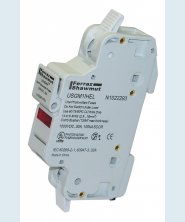 Ultrasafe™ Fuseholders - USGCC & USGM Series
The new USGCC and USGM fuseholders are equipped with industry-proven and patented CAGE CLAMP® technology. This screw-less, spring pressure, wire termination technology has over 25 years of field experience and acceptance and can reduce wire installation time and cost by up to 75%. The spring terminal technology significantly improves system reliability by maintaining a very low contact resistance, easily withstanding corrosion, vibration and temperature cycling. The technology also eliminates the need for routine torque maintenance required by standard screw-type terminations. Mersen is the first manufacturer to offer this technology in a power fuseholder.

Mersen USGCC and USGM fuseholders feature IP20 finger-safe protection, a compact footprint, DIN-rail mounting and quick, easy and tool free fuse change-outs.

The fuseholders are available and designed for use with class CC, midget and photovoltaic fuses at ratings up to 32A and 750VAC / 1000VDC. Fuseholders are also tested and certified by global standards organizations Underwriters Laboratories (UL), Canadian Standards Association (CSA) and International Electroctechnical Commission (IEC).

Mersen's new USGCC & USGM series fuseholders deliver the ultimate ease-of-use, time (labor) saving and reliable solution available in the marketplace. Mersen is the first manufacturer to offer screw-less, spring pressure, wire termination technology into a power fuseholder, delivering the best of both technologies to its customers. These revolutionary fuseholders now allow you to experience the benefit of safety, ease-of-use, labor savings and spring pressure technology.

Features
Equipped with industry proven patented WAGO CAGE CLAMP technology
Reduce wire installation time by up to 75%
Highly reliable, maintenance free wire contact
Secure vibration proof, corrosion resistant, temperature cycling resistant, cost saving wire connection
Quick, tool-free easy change outs
IP20 finger-safe protection
Option visual brown fuse indicator
DIN-rail mounting
Compact footprint
Environmentally conscious, R0HS compliant and lead free
Applications
All circuts up to 750VAC/1000VDC for power control, power distribution and power electronics


Non-load disconnect
Mersen-Ferraz USGCC & USGM Series Fuse Selection
(for use with Class CC, midget, & Photovoltiac midget fuses)
Accessories
CATALOG
NUMBER
DESCRIPTION
CATALOG
NUMBER
DESCRIPTION
USGN
1 Pole with Neutral link
USPTH
Pin-Tie accessory for 12 POLES
USTP

Test Plug 2 x 500mm, Red

USWMBO

WMB markers, blank, 10 x 10 strips

USWMB1
WMB markers, pre-marked,
10 x 10 strips
USCMA
Continuous marking strip adapter
(1 needed per pole)
USCMO

Continous marking strips,
blank 10 x 10 strips

USWMBO

WMB Markers, blank, 10 x 10 strips