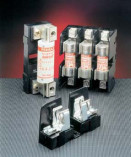 Class J Fuse Blocks - Space Saving SJ Series
Ferraz Shawmut expands its popular "SJ" series fuse blocks to now include a 100A version in addition to the existing 30A design. These blocks occupy up to 25% less mounting space than standard Class J fuse blocks. A patented built-in DIN rail adapter on the 30A SJ block adds further design versatility. A choice of box, screw, or pressure plate connectors fit a wide range of stranded, solid copper, or aluminum wire for the 30A design, while the 100A design features a box connector. Insulators are glass-filled polycarbonate with verified dielectric strength in excess of 2500V.

Both the 30A and 100A SJ blocks feature a unique adder block which can be snapped onto 1-, 2-, or 3-pole blocks to form multi-pole segmented blocks of as many poles as desired. All fuse clips are spring reinforced, made of high conductivity tin-plated copper.

[280 KB]

Brochure
[Not Available]
Applications
Recommended Fuse Usage - AJT, A4J, HSJ
Part Numbers