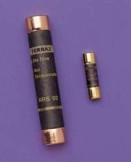 NRN & NRS Series / Class H / 250V
Ferraz Shawmut NRN (250V) and NRS (600V) fuses are standard non-time delay fuses, with a 10kA short circuit rating. 250 Volt NRN15 through NRN60 fuses are certified as Type "P" fuses, satisfying the Canadian Electrical Code for low melting-point non-time delay fuses. Also qualifying for Type "P" are OTN15 through OTN60, which are Class K-5 fuses with a 50kA short circuit rating (found in the OT/OTS fuse section).

[202 KB]

Brochure
[Not Available]
Features
Non-time delay.
250V and 600V applications.
Ferraz NRN Series Fuse Selection (250V)
Ferraz NRS Series Fuse Selection (600V)